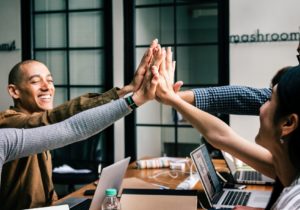 Yesterday a group of faculty, staff, and I convened in Main Hall 401 for a workshop, "Active Learning is Loud!" The well-attended session centered on active learning strategy, and associated challenges and countermeasures. The time consisted of a brief summary of active learning, which you may find here, presentations by Beth DeStasio (Biology) and Kathy Privatt (Theater) about their experiences with active learning, and then an activity and discussion around challenges associated with active learning and brainstorming ways about how we might address those.
Presentations
Beth shared her work in biology highlighting her use of manipulatives in which she uses straws of various colors and lengths to teach DNA replication. She also shared some of the strategies she employs to manage the logistics of group work during the active learning activities.
Kathy shared a few different examples of active learning activities that she has done with her students. One well received example was the mention of a variation of the Think-Pair-Share strategy in which students will leave the classroom and walk rather than having a sit-down meeting. Kathy shared that the addition of the movement helps the students engage and have richer discussion.
Take-Away's
While brief, the session proved valuable to all in attendance as was evidenced by their take-away's. Some poignant comments are shared below.
One attendee noted, "It was good to see examples of active learning that are not dependent on technology. It was good to hear that other people run into some of the same challenges that I do." The second part of that comment is probably one of the most valuable parts that I see come out of these workshops and something that I aim to incorporate into every workshop or session I facilitate.
Another attendee appreciated Kathy's mention of the "walking meetings," mentioning that, "Physical movement in classroom and outside of classroom promotes discussions." The same person commented on Beth's example of using the manipulatives saying that the, "visual aids/hands-on materials not only help students but also help instructors to check progress." These are two benefits of an active learning approach.
Related to the idea of movement another attendee commented that they, "especially liked hearing how leaving the classroom to go on a walk and then returning helped overcome challenges of a physical space." This is a key point as limitations of space are a large challenge for active learning. The space doesn't directly influence teaching and learning, but it does have strong influence in how the space is used and the sort of activities it can support. Finding creative ways to work within the space that we have is a key skill for instructors.
It was a pleasure facilitating this workshop and appreciate everyone who participated. I look forward to learning more about active learning strategies, especially with an eye toward assessment, and working with the faculty here to implement these and other strategies to make the teaching and learning experience the best it can be.