A couple months ago I shared a note about New Quizzes – a new quiz engine being developed in Canvas. In that post I share a couple known issues. One of those was that manually graded questions were not appearing on the Dashboard in the To Do list for instructors.
I am pleased to share that the Instructure development team has implemented this capability for New Quizzes. It is now possible to receive a to-do notification for manually graded items within quizzes. You can see an example notification below.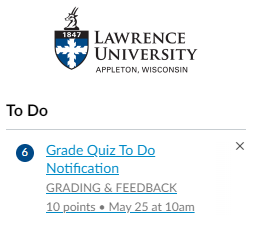 Another update Instructure shared relates to the Fill In the Blank question type. It is now possible for instructors to use the rich content editor as they create fill-in-the-blank questions. The provides more formatting options and the ability to integrate formulas into the questions. This video (2:22) demonstrates the expanded capability.